Music From The Heart — John Nyerges ©2017 J. Nyerges, NBR Jazz (BMI)
All original music by John with Clay Jenkins — trumpet,
Doug Stone, Vince Ercolamento — tenor sax,
Alexis Tarantino — alto sax,
Danny Ziemann — acoustic & electric bass,
and Chris Teal — drums.
My 3rd CD as a leader. This CD is a trip back to some of the mixed grooves on my 1991 Point of View CD 'roots' with some funk (featuring a lot of Fender Rhodes® besides acoustic piano, & some B3, synths), mixed with acoustic swing more evident in 2008, some up tempo swing, and a Gospel ballad.
Compositions for the people in my life, like my other CD's (Point Of View, 1991, Jazz Pictures & Poems 2008) - dedicated to parents, spouse, children, grandchildren, & musicians who influenced me... it contains some duets, solo piano and of course, quintet.
A New Day — my general hope for the future of the world
Solid As Stone — was written for Doug
Cool — A 2nd tribute to Don Grolnick, 1st was "Tribute" on

Jazz, Pictures and Poems

. Features a new star on the scene, Alexis Tarantino
Brecker's Blues — Tribute to Michael (& Randy), a big influence on me, and a chance for an up tempo jazz romp
Requiem — for my father-in-law Nelson Darroch, in memoriam.
WGMC Blues — Joshua Redman-influenced tune and tribute to one of the best jazz radio stations in the country
Floating —featuring Vince E (I wrote "Impetuoso" for him on

Jazz, Pictures and Poems

2008)
Meditation On A Prayer — a musical prayer for the world, a 2nd duet on acoustic piano with Doug (sax)
Monk's Blues II — Another version of "Monk's Blues" 1st heard on

Jazz, Pictures and Poems

2008
The Look In Your Eyes — straight-8th groove Ballad for Kathy, duet on acoustic piano with Doug, tenor sax
Can You Feel That? — written for Alexa when she came to play at my college as a guest artist
Tribute — in memoriam, solo piano written for Fred Sturm, one of the greatest teachers and human beings I've known. First played at his Tribute concert 1/21/2017
D&C REVIEW: "One of Rochester's fine jazz pianists, John Nyerges, has just released a tasty album of originals, appropriately titled Music from the Heart. As instrumentalist and small-group leader, he demonstrates an impressive range of musical skill.
"The program features an appealing balance of uptempo mainstream jazz and melodic ballads, played by various combinations, from a trio (with bassist Danny Ziemann and drummer Chris Teal), to ensembles with various well arranged combinations of horns, including trumpeter Clay Jenkins, and saxophonists Doug Stone, Vince Ercolamento and Alexa Tarantino.
"At its heart, though, the CD spotlights the subtle and richly artistic playing of Nyerges. I especially enjoyed his stretching out on "Brecker's Blues," and the grace and feeling he imparts to "Requiem." And I also really enjoyed "WGMC Blues," his roly-poly tribute to 90.1 FM, Rochester's great jazz station.
"It's clear why Nyerges is the pianist Jeff Tyzik and the Rochester Philharmonic Orchestra call upon when jazz is on the menu."
by Jack Garner 10-15-2017 Rochester D&C Arts, 6C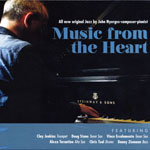 Jazz, Pictures and Poems — John Nyerges ©2008 J. Nyerges, NBR Jazz (BMI)
All new original music by John with Clay Jenkins—trumpet, Mike Karn—tenor sax, Jeff Campbell—bass, & Rich Thompson—drums.
"My second release as a leader. This is music the way I like to play and hear it — melodic with interesting harmonic changes, but always musical and passionate. It contains acoustic bass and acoustic piano, drums, trumpet, tenor saxophone, and trombone. I hope this classic jazz sounding group and the compositions on it will be timeless and keep your interest on repeated listenings."
Monk's Blues — for Monk [MP3]

Modern Times [MP3]

Time's Up [MP3]

Life [MP3]

Sense of Loss — for Bob Stata [MP3]

Impetuoso — for Vince Ercolamento [MP3]

"Li'l E" — for Ian Nelson Buckles [MP3]

Prayer Song — for Lena Nyerges [MP3]

Straight from the Heart
Tribute — for Don Grolnick [MP3]

Away from the City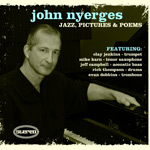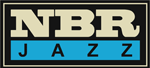 Point of View — John Nyerges ©1991 NBR Jazz
"My first solo release. Features all originals with piano and sax as main soloists plus bass & drums. This CD pays homage to some of the composers that influenced my earlier writing. It contains a mixture of straight ahead jazz trio tunes such as "Swing Shift" and "One For Josh" (for my son Josh) , "A Moment In Time" — a funk trio tune (ala Joe Sample), "Sambelissa" - a modern samba (title a play on words 'samba' and daughter 'Elissa') ala Chick Corea, "All The Way" — a Jazz-Pop ballad with Gospel inflections, "Scenic View" & "Song For Carina" (another daughter) ala The Yellowjackets, and "In Search Of A Word" — written after listening to sax great Kirk Whalum. "Where The Heart Is" is kind of a statement, the answer being "Home Is Where The…a ballad written in honor of my parents.
It features great work by Brian Scanlon—tenor & alto sax, Ron France—bass, & Wilby Fletcher, Jr.—drums.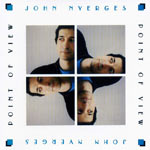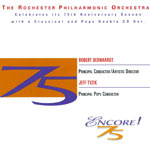 RPO 75th Anniversary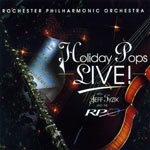 RPO Holiday Pops Live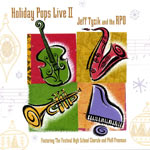 RPO Holiday Pops Live II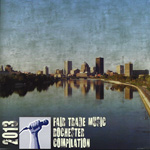 Fair Trade Music 2013 Rochester Compilation
Info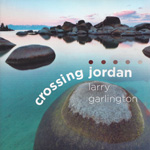 Larry Garlington — Crossing Jordan
CD Baby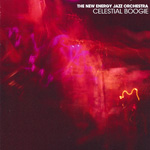 New Energy Jazz Orchestra — Celestial Boogie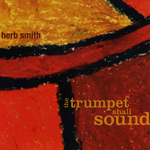 Herb Smith — The Trumpet Shall Sound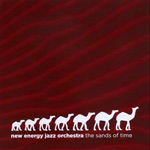 New Energy Jazz Orchestra — The Sands of Time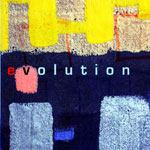 Dave Glasser — Evolution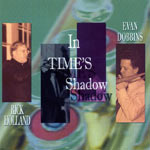 Rick Holland & Evan Dobbins — In Time's Shadow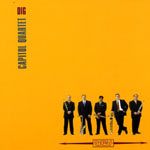 Capitol Quartet — Dig
"This features the same rhythm section as on my new CD." Learn More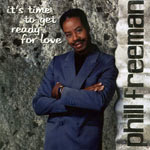 Phill Freeman — It's Time To Get Ready For Love
"This features the same rhythm section as on my new CD, and many piano solos." CD Baby.
Allen Vizzutti — Jazz Tracks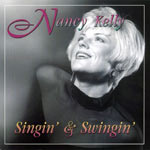 Nancy Kelly — Singin' and Swingin'
"On Amherst Records, I'm on a few cuts on this date. Played in her group for a few years."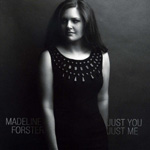 Madeline Forster — Just You Just Me
"I'm playing on about half of this record, and arranged four of the tracks."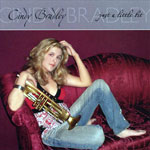 Cindy Bradley — Just a Little Bit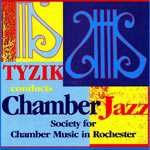 Tyzik Conducts Chamber Jazz Learn More.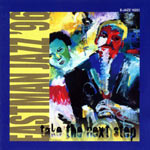 Eastman Jazz 96 — Take the Next Step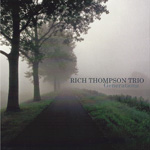 Rich Thompson Trio — Generations
Listen & purchase

Home :: About John :: Bands :: Calendar :: Listen & Watch :: Discography :: Store :: Images :: Links :: Contact
©2007—2019, John Nyerges, All Rights Reserved
Website by Red Beagle Web Development